In the fall semester of the 2021/2022 academic year, the Faculty of Humanities of the University of Debrecen can launch a new English-language program with the participation of 30, primarily international, students of UD. Most of these students are enrolled in the Faculty of Medicine, the Faculty of Engineering, the Faculty of Economics and Business, the Faculty of Informatics and the Faculty of Humanities. During the course, they can learn about the Mandarin Chinese language, improve their communication skills, acquire a deeper understanding of the history and culture of China, and perceive and experience the magic of five thousand years of history while they are "wandering" in the forbidden city.
This course represents the first chapter of the recently signed official cooperation agreement between the two institutions of higher education. This will hopefully be followed by joint efforts expanding to cover other fields of academic and scholarly activities in the future," said Cui Xianjun, the Chinese Director of the Confucius Institute of the Faculty of Humanities of the University of Debrecen in his opening address.
"This program may be useful for all those students who are interested in the Chinese language and culture. This is why, according to our plans, the Faculty of Humanities will offer in turn during the next semester that our instructors could give online lectures on Hungarian culture either in English or in Hungarian," said Péter Csatár. The Vice Dean of the Faculty of Humanities at UD also highlighted the following: we are particularly glad that there are going to be a many as three full-status Chinese instructors contributing to the work of the Confucius Institute soon.
"The basic objective of this course is to facilitate the understanding of the Mandarin Chinese language and Chinese culture, while it also intends to strengthen the exchange of instruction in Chinese and other foreign languages. The School of International Education of Tianjin Foreign Studies University (TJFSU) and the Research Institute of the Forbidden City combines the presentation of traditional culture with the opportunity of language learning, which will be available as of now to the students of the University of Debrecen, too," said Pál Csontos, the Hungarian Director of the Confucius Institute at UD.
The participants of the opening ceremony were also greeted by Ms. Sun Qian, the Chief Secretary of the School of International Exchange at TJFSU, and Educational Program Leader Ms. Jin Shiyu.
"Our course, which has been a great success for the past couple of years, contains three educational modules: "Forbidden Bookstore," "Travel in the Forbidden City" and "Online interaction." The series of presentations provides an opportunity for students from all over the world to "travel" virtually to the Forbidden City without having to leave their homes, thanks to the online connection," said Ms. Dai Xiumin, an instructor of the course from TJFSU.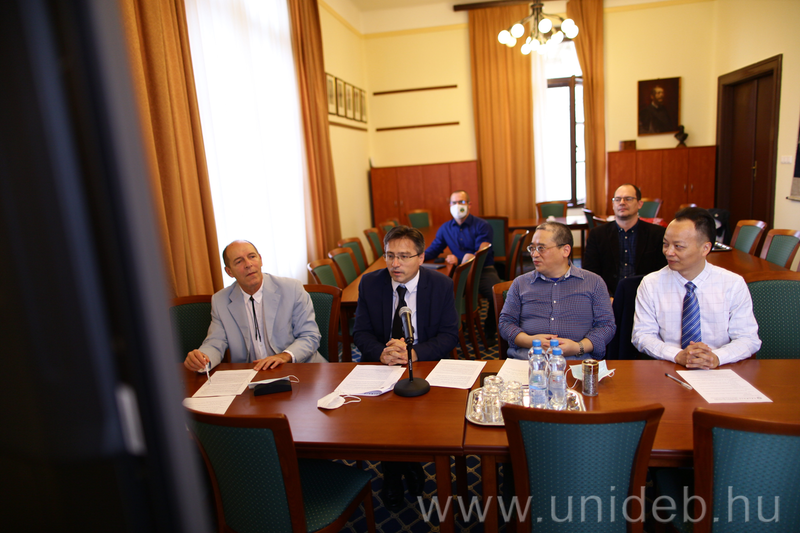 The first class of the course on the Forbidden City started on Thursday, the same day as the official opening ceremony took place.
 
Press Office